Do you sometimes want to make a real difference to someone's life? Someone I know fostered a child for the first three years of the child's life. She says that, although she couldn't keep the child forever, she believes the care she gave in those years will make a great difference to the whole of that child's future life. We can't all foster children for three years (although we can consider it) but we might be able to spend a few weeks fostering kittens at a crucial time in their life.
Appropriate care given during the early weeks of a kitten's life can make a real difference to how that kitten behaves as an adult. The greater the variety of positive experiences kittens have between two and eight weeks of age, the more likely they are to adapt well to whatever life has in store for them in the future. Kittens which have not been exposed to positive new experiences during this period are more likely to be scared of new things in later life.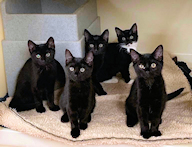 So that is why staff at the vets where these beauties are being boarded are making every effort to ensure they grow up to be well socialised cats. The kittens come from a large colony of cats, that Hounslow Animal Welfare Society (HAWS) have been working with for some time. They were found when someone heard meowing coming from a shed. Inside, they found six weaned kittens, nervously fending for themselves. HAWS were able to trap five of them but haven't been able to catch the Mum and sixth kitten. But they are still trying.
The kittens are seven weeks old so are the right age for socialising. This means the vet staff are exposing them, in a positive way, to different experiences. In order to help with kitten socialisation, Cats Protection (cats.org.uk) have produced a chart giving examples of key things kittens should experience such as meeting people of different ages and hearing different sounds.
Of course, it would be easier if these five kittens were in a foster home but HAWS foster homes are all booked up. Not a vacancy in sight. So if you're thinking to yourself, you would like to do something which makes a real difference to someone, becoming a foster carer for kittens could be the answer. If you're interested in fostering for HAWS see haws-animals.org.uk.
If you would like to offer a loving home to any of these five, call HAWS on 020 8560 5443.

It was worth going to Chiswick House Dog Show. Not only was it a fabulous afternoon but also I learnt something new about All Dogs Matter (ADM). I've known about this charity with many celebrity supporters (Ricky Gervais, Peter Egan – to name a couple) since it began and many readers will have met ADM at the Ealing Animals Fair. However, as they're based in North London, I haven't featured them here before. But, at the Show, I learnt they have a strong contingent in Chiswick so now is the time to spotlight this busy group.
Since they were founded in 2009, ADM have rescued over 3500 dogs. Last year they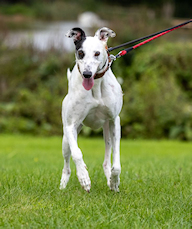 rehomed over 300 dogs. They don't mess around. They've just taken in seven beautiful ex-racing greyhounds who are now looking for homes. Trigger is just one of them.
Greyhounds are popular pets. Although all dogs are individuals, greyhounds are well-known for being couch potatoes. After a walk, they generally like snoozing on the sofa.
In order to help people adopt an ex-racing greyhound, ADM have outlined what a racing greyhound is likely to experience in kennels and how to help them make the transition to home life.
For most greyhounds, life in racing kennels is predictable, their life revolves around allotted times for feeding, exercise and racing. Before they retire, they won't have experienced a home environment. In practical terms this means, for example, that greyhounds may not be toilet trained - they do, however, usually pick this up quickly.
Because racing greyhounds are unlikely to have encountered stairs before, some have initial difficulty with these. Stairs need to be introduced slowly. They tend to prefer carpeted stairs to avoid slipping.
Also some greyhounds struggle with the concept of windows/glass doors and will try to run through them. ADM suggests if your greyhound has this problem to put coloured tape in an X on the glass to show them they can't run through it.
Importantly, greyhounds are trained to chase "small furries" so, depending on their prey drive, ADM emphasise they may need to be on a lead and wear a muzzle indefinitely when out and about.
Despite all this, greyhounds can make incredibly rewarding pets. If you're interested in adopting Trigger or any of ADM's dogs, see alldogsmatter.co.uk.
In order to raise funds, ADM are holding a Halloween Dog Walk and Parade on October 31. We're invited to meet at the Spaniards Inn, Hampstead. Tickets (£5/adult) are available online. Categories for the parade include Spookiest Dog/Child/Adult.
Just had lunch at a great pub in Guildford. It was a chilly day and there were two fabulous heated outside cabins just a stone's throw from the river. The only problem was - we weren't in one. Being in the right environment does help you to enjoy an event so much more.
Many rabbits are not in the right environment. Cooped-up, on their own, in a small hutch, out of sight is the fate of too many rabbits. They need the company of at least one other friendly neutered rabbit and to have enough space to display their natural behaviours such as running, jumping and digging. Rabbits can live indoors as house rabbits (but make sure you have rabbit-proofed the area they live in) or outdoors in a large hutch that has a secure enclosed exercise run attached to it. The Rabbit Welfare Association and Fund (RWAF) constantly remind us that "A Hutch Is Not Enough" - the total space they have should be a minimum of 3 metres by 2 metres and at least 1 metre tall. You can see more details of rabbit housing at rabbitwelfare.co.uk and rspca.org.uk.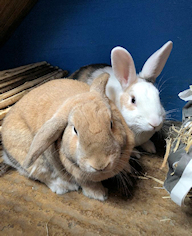 Jolene and Milo would be particularly interested in looking at a brochure of indoor rabbit housing. These two beautiful rabbits are currently in the care of the National Animal Welfare Trust (NAWT), We've met them before (Gazette July 21) but they're still waiting for a home. They are an inseparable pair who are used to living indoors. Touching them is softer than touching cotton wool.
If you can offer them a loving home, see nawt.co.uk or meet them at the NAWT rehoming centre Tylers Way, Watford-by-pass.
While you're there, be prepared for some spooky sightings as, until November 2, the centre is running a Halloween event during which visitors can test their ghost hunting skills.
But being scared isn't always fun and many animals find this out at firework time. As firework season approaches, we must remember to look after our pets. Ways to protect them include keeping your dog or cat indoors at times when fireworks are expected, walking dogs early and closing windows and curtains to muffle the sound. It's important not to forget small animals who normally live outside. Partly cover cages and pens with blankets to reduce the sound but make sure the animal has enough ventilation and can always see out. Give your pet lots of extra bedding to burrow in to help them feel safe. See more ideas at rspca.org.uk.