As well as founding the Ealing Animals Fair, Marion Garnett has also, since 2011, written a weekly Animal Rescue column which is published in the West London local newspaper, The Gazette. Columns published since January 2019 are now available online here.
If you would like to see any of the columns published before 2019, please contact Marion directly (see the Contacts page).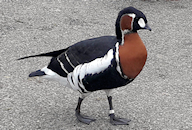 If I could sew, I'd make myself a coat in the colours of this goose. Now the climate change conference Cop26 has arrived, it seems a good time to pay another visit to the wonderful Wetland Centre at Barnes where they have twelve of these red-breasted geese – all looking suitably stunning. Just as rainforests are the lungs of the planet, then wetlands are the lifeblood. But they are under threat including from climate change.
There is so much to see at the Centre – especially with a pair of powerful binoculars. It's the size of 70 football pitches and is home to a huge variety of wildlife. Wetlands are ecosystems that are either permanently or seasonally covered with water. They provide a home for many endangered species and act as a "service station" for millions of migratory birds to rest and refuel. We all need a break on a long journey.
At least 40% of the world's plants and animals depend on wetlands but, since 1970, over a third of the world's wetlands have disappeared.
Threats to wetlands come from, for example, pollution, land being drained for development and climate change. Humans have contributed to climate change by the use of fossil fuels and aeroplanes and by deforestation. It's expected that, as the result of climate change, the UK will experience warmer and wetter winters, hotter and drier summers and more frequent and intense weather extremes. The effect of such changes will include flooding and loss of biodiversity.
The Wildfowl and Wetlands Trust (WWT) work hard to limit the effects on wildlife from the many threats they face. Saving the red-breasted goose has been one of their priority projects. The numbers of these beautiful geese crashed from 90,000 to less than 30,000 at the start of the 21st century. They breed in Arctic Russia and fly 3500 miles to places such as Bulgaria for the Winter but they face risks all along the way. Due to conservation work, their classification level has now moved from "Endangered" to "Vulnerable". But, with global warming, the Arctic tundra where they breed is at risk of warming up and numbers could again plummet.
If you would like to see London's fabulous wetlands and find out how you can help their wildlife and also how wetlands can be part of the solution to climate change, visit the WWT Wetland Centre at Barnes (wwwt.org.uk).
Until January 9, there is also an evening light trail at the Centre called Illuminature. For this, you need to pre-book online.