When you open the fridge and find the brown sauce bottle is empty – there is no choice. Even in a war zone. A journey to the supermarket calls.
This is former Royal Marine Commando, Pen Farthing, best-selling author and founder of the charity Nowzad speaking from Afghanistan. Regular readers will be familiar with Pen's work rescuing animals in war zones. Many will have met him as, last year, he gave a presentation at Ealing Animals Fair. More about the Fair next week but now back to the Afghan supermarket.
Thankfully for a young pup, it was a journey that meant Pen was exiting the Nowzad van just as the pup stuck its head out of the drain outside the supermarket where he was foraging for food.
Pen could immediately see the pup had an injury to its mouth. He approached it slowly so as not to scare it and quickly realised it was not an injury but leishmaniosis. A potentially fatal disease which needs immediate treatment. The pup was super friendly which meant Pen could scoop him up.
Once back at the Nowzad clinic in Kabul, the pup was admitted for treatment. Named Creamy, he was put in quarantine where he was desperate for a warm bed and food for his empty tummy.
Pen says that every now and then, Nowzad are reminded why quarantine is necessary. Just a few days after arriving at the clinic, Creamy started to act aggressively. He was showing the first signs of rabies. Within a few hours he was fully rabid.
The team acted swiftly and were able to painlessly end his suffering, thankful he had been saved from a difficult death on the streets where he may have bitten someone.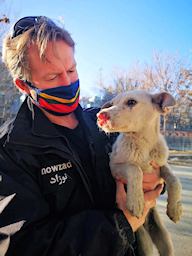 Although Creamy was only with Nowzad a short time, he touched their hearts. He also emphasised the need to expand their quarantine facilities so they can help more animals.
If you want to know more about Nowzad's work or donate for expanded quarantine facilities, go to nowzad.com or send a cheque to Nowzad, The Meriel Suite, Hartnoll Farm Business Park, Tiverton EX16 4NG. All donations are welcome but those who give over £200 will have their name or message displayed on the unit wall.
Just in case you're wondering how those at the Kabul clinic are faring with the pandemic, Pen says there is little in the way of Covid testing and definitely no vaccine delivery on the horizon. They have little choice but to mask up and crack on.
I've just seen a notice on a hospital vending machine which says "Do not use endoscopy equipment to steal chocolate from this vending machine…next time the Police will be notified".
Yes, this certainly was a crime but, for me, it's not in the same league as the crime of leaving a cat taped up in a cardboard box beside a busy main road. But that is just what happened to Kitty.
This cat was abandoned at the entrance to the National Animal Welfare Trust (NAWT) rehoming centre. Importantly, whoever left the cat there didn't realise that because of lockdown and visitors not being allowed into the centre, that entrance is, at present, hardly used. Staff go a different way. It was only by chance the cat was found when a member of staff was walking a dog who became interested in the box. Fortunately, Kitty is now in the safe hands of NAWT.
Let's be clear about this, abandoning an animal in this way, is a crime. And, moreover, totally unnecessary. Jackie De Friez, manager of the NAWT centre emphasises that, if you can no longer keep your animal, all you have to do is give them a call and they will do all they can to help you. They won't be judgemental.
When you take an animal into your home, the intention should be that it is for the rest of that animal's life but, if circumstances change, rescue centres understand this.
NAWT is among several charities, such as Battersea Dogs and Cats Home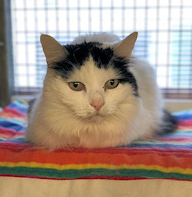 (battersea.org.uk), Dogs Trust (dogstrust.org.uk) and CatChat (catchat.org) which have on their website what to do if you need to give up your pet. Once the decision has been made, you need to contact a reputable animal rehoming centre as soon as possible as, although the urgency of each case is likely to be considered individually, the animal may have to go on a waiting list before it can be admitted.
The problem of what to do if, unexpectedly, you can no longer look after your pet highlights one of the advantages of getting a pet from a rescue centre. If you can no longer keep them, a reputable rescue centre will usually take them back.
Now back to beautiful Kitty. She's friendly although rather timid. Kitty will be available for rehoming towards the end of March. If you're interested in giving her a quiet, loving home for the rest of her life, call NAWT on 020 8950 0177 or see nawt.org.uk.
We're waiting for the toads to arrive. Having spent several days during lockdown creating a wildlife-friendly pond, I'm now glued to it waiting for the arrival of newts, frogs and dragonflies.
When creating something new like this, it's useful to get advice from someone who knows what they're talking about so I've been speaking to a gardener who has won seven gold medals at Chelsea for aquatic plants (watersidenursery.co.uk). Unbelievably helpful, she helped me avoid mistakes.
In order to avoid dog owners making mistakes when doing something new, Dogs Trust are giving advice on how to bring dogs out of lockdown as smoothly as possible. Taking the form of a roadmap, Dogs Trust's advice includes how to prepare your dog for outdoor gatherings (by, for example, reminding them how to greet people) and how to train your dog for visitors indoors (by, for example, teaching your dog to run to a safe space like their bed, when they hear the doorbell and wait there until your visitors are settled). The Dogs Trust roadmap also emphasises that, as more people stop working from home and return to their previous workplace, it's important for owners to prepare their dog to cope with being left alone, therefore preventing separation anxiety. In order to stop problems developing, Dogs Trust invites owners to visit dogstrust.org.uk to look at the roadmap and watch their training videos. One of the biggest reasons why dogs are handed into Dogs Trust is because of behaviour-related issues that could have been prevented early on.
Helped by Dogs Trust Harefield, one dog being prepared for new beginnings is Terry.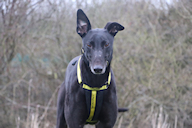 This affectionate ex-racing greyhound is a sensitive boy who hasn't lived in a home before so will need owners who give him time to settle and come out of his shell. To begin with, leaving hours must be minimal, and built up gradually. Although he has dog friends, he can't live with cats. Terry loves having a sofa to snuggle on. If you're interested in giving Terry a loving home, see details at dogstrust.org.uk where you can also find information about rehoming arrangements during lockdown.
Finally, Battersea Dogs and Cats Home are also trying something new. For two weeks, they are live streaming pictures from video cameras in their cattery. Research shows watching video footage of cute animals can help wellbeing. So, if your stress levels need reducing, try visiting battersea.org.uk and typing Cat Cam into the search box. Alternatively make a wildlife pond and wait for toads.