There's always something going on when you go to central London, something you don't expect - a demonstration, an altercation, an exhibition. That's one of the reasons, it's so exciting. Being in London can lift your spirits. This is especially so, on a Sunday afternoon when you walk down the Strand and there, buzzing with activity, is the Dogs On The Streets (DOTS) mobile veterinary clinic and stall stationed for a couple of hours providing care for the dogs of rough sleepers. Since Michelle Clark started this award-winning charity in 2016, it has gone from strength to strength. Besides their regular stalls on the Strand and other locations, DOTS also have a new expanded sanctuary where, in the event of an owner's illness, they can now take up to 100 dogs. It means the world to many rough sleepers to know that, if they need to go to hospital, DOTS will look after their dog.
Michelle and her team are constantly looking for ways to expand their services. For example, they are increasing their fostering service and are in the process of extending access to their sanctuary to the dogs of owners in need who are not rough sleepers. Michelle is also writing her second book following the publication of her first one, Poppy, The Street Dog about the dog who inspired the formation of DOTS. If you want to know more or buy DOTS a present from their wishlist, see dogsonthestreets.org.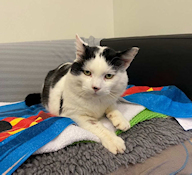 Meanwhile on the south side of the Thames, another inspirational charity is also hard at work. As Battersea Dogs and Cats Home predicted, the number of cats being admitted to Battersea is beginning to return to pre-pandemic levels. At the moment, Harry is their longest-stay feline resident. This gorgeous boy arrived at Battersea in February as a stray with an injured back leg. Unfortunately, Battersea couldn't save his leg so it was, eventually, amputated. Harry can be shy to begin with but, once he knows you, he loves human company. If you can offer Harry a loving home and help him adjust to his new three-legged life, see details at battersea.org.uk.
Battersea has continued to take in animals during the pandemic. They emphasise that, if you're struggling to look after your cat or dog and are considering rehoming them, not to abandon the animal or advertise them online but to make contact with a reputable rescue centre where they can be cared for and carefully matched with a new owner. See battersea.org.uk for more information.
At about the same time as a secret wedding was taking place in Westminster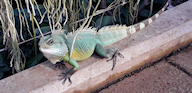 Cathedral last Saturday, I was at Kew Gardens with a secret of my own. Many visitors go to the Princess of Wales Conservatory without knowing three Chinese Water Dragons live there. I know because, on a quiet day, one of them unexpectedly crossed my path. These lizards (as beautiful as any bride) are welcome in the Conservatory as they eat unwanted bugs. As many visitors admired the exquisite plants, unaware of the reptile residents, it reminded me how easy it is to be in a building and not know an animal is there – quietly hiding.
This can be a particular problem for cats. I recently heard of a cat who was shut in a shed for two weeks before being found - fortunately, still alive.
It's a reminder of the need to ensure we don't, accidentally, shut a cat (or any other animal) in a shed, garage or anywhere they shouldn't be. So, if you've been to a shed etc, before shutting it up, take a thorough, active look round to ensure you're not trapping an animal inside. Cats Protection produce a door hanger to hang on the handle to remind us to look before we lock. We can download it from cats.org.
As Summer approaches, this is another reminder that every year, despite the clear message that Dogs Die in Hot Cars, it still happens.
According to the RSPCA, a car can become as hot as an oven very quickly. When it's 22°C outside, it can reach an unbearable 47°C in a car within the hour. A dog can die in less than 15 minutes.
If we see a distressed dog in a hot car, the RSPCA advise us to dial 999. If we're outside a shop, we could ask the staff to make an announcement to alert the owner. If the situation becomes critical and the police are too far away, many people's instincts will be to break into the car and free the dog. If we decide to do this, we need to be aware that without proper justification this could be classed as criminal damage and we may need to defend our actions in court. We must make sure we tell the police what we intend to do, why and take images of the dog and the names and numbers of witnesses.
And, don't forget other places, such as caravans and conservatories, can get hot very quickly too.
This week we're talking about pigs. Firstly, Esther, The Wonder Pig who's got hundreds of thousands of fans all round the world and, secondly, Rhino and Bolt, two guinea pigs who are totally gorgeous. Yes, I know guinea pigs aren't pigs but they are often called "piggies" by their friends.
Esther, the pig and her two Dads, Steve and Derek, are inspirational. For those who don't know, Steve and Derek adopted Esther when she was a baby believing she was an unwanted mini-pig. But, as she grew, it became clear Esther wasn't a mini-pig but a full-size 650lbs pig. By the time they realised this, they couldn't bear the thought of parting with her. They had a difficult dilemma. The house they lived in didn't allow them to keep a pig. They had to move.
Both Steve and Derek had dreamt of buying a farm and turning it into an animal sanctuary. So they crowdfunded until they had enough money to buy one – Happily Ever Esther Farm Sanctuary was born.
Unwanted animals started arriving immediately. Steve and Derek would be the first to say, they learnt on the job. On one occasion, Steve describes how he had to learn to drive a tractor with twenty-four gears. He thought he would use it to clear some snow but learnt the hard way that, at the height the blade was set, he hadn't just removed the snow, but also the top layer of the drive.
Their honest accounts, including their faults, have given insights into how they've coped with difficult situations and the importance to them of being open-minded and willing to take a leap of faith. And always being kind.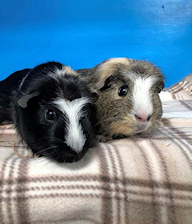 Through the way they've shared their journey with Esther with the public, thousands of people have seen that pigs, like Esther, are sensitive and intelligent and don't deserve to spend their lives imprisoned in intensive farms.
You can read more about Esther in her Dads' best-selling books and at estherthewonderpig.com. Although Esther lives in Canada, many readers will remember she was also a great supporter of the last Ealing Animals Fair.
Now to the two piggies, Rhino and Bolt. These two guinea pigs are currently being cared for by the National Animal Welfare Trust. Bolt is the more confident of the two but they are both inquisitive piggies who, like Esther, enjoy investigating their surroundings. If you can give them a loving home with plenty of space, see details at nawt.org.uk or call 020 8950 0177.

Covid-19 has a lot to answer for - wrapping its tentacles round too many aspects of our lives. One less publicised effect is that, due to lockdown, many people report losing confidence in themselves. There's a danger we've got used to mixing less with others and have lost confidence in doing the things we did before.
It's not only most (but not all) humans who find that in order to get the best out of life, we need to get along with others and be able to function in different situations, it can be animals too.
Bert and Ernie's foster carer has spent the past four months teaching Bert and Ernie these lessons. These two stunning tabbies were found with three other kittens in a garden. There was no sign of Mum and they were terrified. Sadly, one died. But the other four have been in foster care with Hounslow Animal Welfare Society since February. They've been split between two homes to make it easier to socialise them.
Good socialisation of kittens is important if they are to live happily, in a domestic setting, alongside humans. Between two and eight weeks is the crucial age for kitten socialisation. The more new experiences kittens have during this time, the more comfortable they are likely to be with new experiences when they are older. It's important that these experiences happen in a place where the kitten feels safe – they must be positive experiences.
Although Bert and Ernie were in danger of having missed out on socialisation during their early weeks, their fosterer has worked hard to make use of any window of opportunity left.
She says when they arrived, they didn't come out of their cage for three days and then they hid. She began to think they would never come out of their shell. But she continued to talk to them and help them get used to different household activities. Then, one day, the fosterer couldn't believe it. She woke at 6am to find Bert laid on the bed next to her, purring. Now Bert is the confident ruler of the roost. Ernie remains timid but sees Bert enjoying himself and would like to join in but doesn't quite know how to - yet.
Ernie relies on Bert to build his confidence so they are looking for an adult-only home where they can be together. If this could be with you, call 020 8560 5443 or go to haws-animals.org.uk. For details of how to socialise kittens, see rspca.org.uk.