There's good news for children who want to learn more about dogs. In July and August, Dogs Trust are organising free family Summer workshops. These face to face fun sessions will include interactive activities such as quizzes and role play designed to teach children how to behave responsibly around dogs and understand their body language.
By teaching children more about how dogs communicate, Dogs Trust hope to reduce incidents where children misunderstand what dogs are trying to tell them.
Each 90 minute session will include helping children learn how to greet dogs safely and how to tell if a dog is friendly. They are aimed at children 7-11 years old. Children have to be accompanied by an adult and one adult can bring a maximum of three children. Places must be booked in advance. If you have any queries or want to book, contact Dogs Trust's Education and Community Officer at rosie.allen@dogstrust.org.uk. The sessions will take place at Dogs Trust, Highway Farm, Harvil Road, Uxbridge.
Sadly, your dog is not allowed at the workshops - they are for people.
But, if you want a workshop for your dog, there's Dog School. Also run by Dogs Trust, these classes use reward-based training to enhance the bond between dog and owner. Dogs are rewarded for doing the right behaviours rather than being told off when they do things wrong. The training sessions help owners understand their dog and prevent future problems.
Training takes place either online or face to face at Dogs Trust, Harvil Road (address above) or the Northolt Sea Scouts Hut, Grandstand Way, Northolt.
The cost is £65 but, if the dog was rehomed from Dogs Trust, there is a £10 discount. For details and to book, see dogstrust.org.uk.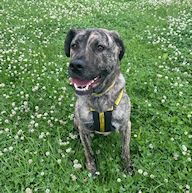 Now, waiting patiently for us to talk about him, is Caffrey. This handsome young Old English Mastiff crossbreed would love a home where he can be the centre of attention. Although he's large, he still tries to cuddle up with you and sit on your lap. He adores human affection and contact. Because he loves people so much, leaving hours will need to be built up gradually. Caffrey needs a home where he can stay downstairs or live in a ground floor flat because, due to his hips, he can't climb stairs.
Caffrey has been working on dog socialisation and has made excellent progress. His new owner will need to continue this work. If you're interested in homing Caffrey, call 0303 003 0000 or see details at dogstrust.org.uk.
There's nothing like lolling around at Kew Gardens all day as though you haven't a care in the world only to find, when you get home, you've missed a deadline you thought was later in the week. Well, it's too late now – an opportunity missed.
Making the most of opportunities that come our way is important – not just for people but also animals. Some readers will know about Matilda, the pregnant pig who, last month, seized her opportunity to escape from a commercial farm. While she was free, she gave birth to ten piglets in the countryside. When found by a surprised dog-walker, Matilda and family were initially returned to the breeding facility but, after a campaign supported by thousands, the company agreed to release them into the care of an animal charity. Matilda had seized her moment and it paid off.
One of the purposes of animal charities is to give animals who've come across hard times an opportunity to have a happy life.
You can always rely on Jackie, the Manager of the National Animal Welfare Trust (NAWT) rehoming centre near Watford to take all opportunities that come her way to give the animals in her care, a happy life. So it's no surprise that, following the easing of the Covid restrictions, she's quick off the mark to organise a party – and we're all invited. The party will celebrate NAWT's fiftieth birthday and also the reopening of the centre and its café to the public following the lockdowns. There will be homemade cakes, stalls and games. You can also look round the centre. The party takes place (mostly in the open-air) on Saturday August 7 (11am-3pm) at Tylers Way, Watford-by-Pass WD25 8WT. For details, see nawt.org.uk.
Two animals currently in NAWT's care are Jolene and Milo. These rabbits are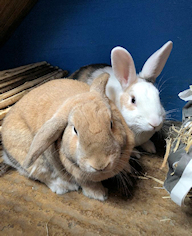 inseparable and spend most of their time cuddled together. If someone comes to say hello, Milo tends to return the greeting while Jolene is more reserved. Milo and Jolene have always lived indoors. The Rabbit Welfare Association and Fund (RWAF) have lots of information about keeping rabbits indoors at rabbitwelfare.co.uk. An important aspect is to ensure that all areas to which they have access are rabbit-proofed (see also rspca.org.uk).
Whether keeping a rabbit indoors or outdoors, do remember RWAF's saying that "A Hutch Is Not Enough". This is Milo and Jolene's opportunity to find a loving home for the rest of their lives. If this could be with you, see nawt.org.uk or call 020 8950 0177.