"Don't even look at my feet" was all I could say when I arrived. The first mistake I made was not to bring my Wellingtons. The second was to think I'd be able to walk through the muddy water-logged area at the entrance. I was visiting the new premises of Chris Wicks Wildlife Rescue (CWWR) and it had rained heavily the night before. The stream next to the rescue centre had broken its banks and formed a new pond at the entrance where several ducks were already nonchalantly floating about obviously thinking this was their new accommodation.
Fortunately, at this point, Chris arrived in his car and we aquaplaned across the flood to his fabulous new premises. If you remember in the last column, we heard that Chris was spending Christmas moving his injured wildlife from their current home to new buildings in a nearby field.
The new premises are much larger which means Chris and his team of volunteers will be able to help more injured wildlife.
Looking round the centre was inspirational. Chris has it all planned out. The centre consists of several rooms with each room accessed via an outside corridor. When fully functioning, the first room will be the office and High Dependency Unit (HDU). It's already equipped with nebulisers and incubators. When animals are well enough to leave HDU, they will go next door to Room 2 which is the Nursery. Room 3 is the
Avian room for sick birds. Room 4 currently houses a kestrel, little owl and several pigeons and is the Rehabilitation Room. When it's fully functioning, Room 5 will be an overflow room and Room 6 is equipped to be the Hedgehog Room with facilities for 30 hedgehogs.
As well as these rooms there's already a large outside aviary for birds of prey and a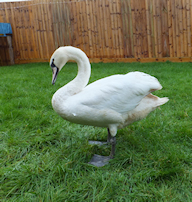 spacious paddock with more animal housing and enclosures attached. An injured swan who came in four days ago is already in the paddock, making full use of the facilities.
It's an exciting time at the centre and Chris is grateful for all the support he's received from the community which has helped to make this move possible. For those who care about wildlife, it can't be overestimated how important it is to be within reach of a specialist centre like this. It means when you find injured wildlife, you know where you can take it. To contact Chris, call 07508 010197. CWWR is at Stockers Farm, Rickmansworth WD3 1NZ. See details at cwwildliferescue.com.
You know the feeling. A nanosecond delay in pulling away at traffic lights and you get a blasting from the driver behind. But not all hooting is unfriendly. Michelle Clark, who founded the charity Dogs On The Streets (DOTS), can be reduced to tears of gratitude by taxi drivers beeping their horns at her when she drives around London in her DOTS vans. They give her the thumbs up and through their cab window shout "Keep fighting the ULEZ".
Nobody who drives round London can fail to notice that, since October, as soon as you turn off the North or South Circular into London you enter the Ultra Low Emission Zone (ULEZ). Introduced by the Mayor of London to ensure cleaner air for Londoners it means that, if the vehicle you're driving is not ULEZ compliant you have to pay a fee to enter the zone. Although commendable in its intentions, unless given an exemption, its effect will be to endanger the viability of the award-winning DOTS charity.
DOTS looks after the dogs of rough sleepers in London. They have two vehicles, neither of which can they afford to make ULEZ compliant. One van is fitted out as a dog transporter and the other is a mobile veterinary clinic. They also carry a defibrillator and work alongside London's emergency services. They are on call 24/7.
But now, every time they're called into central London, they have to pay a daily charge of £12.50 for the ULEZ fee plus £15 for the Congestion Charge for each vehicle. And DOTS cannot afford this kind of money.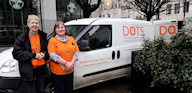 Apart from going into London for their regular dog care stations on The Strand, they are frequently called into central London to help with emergencies that arise with their clients and other vulnerable people.
In the past few days alone, they've received calls about a client taken into hospital intending to discharge himself as he was worried about who was looking after his dog.
Another call was from a hostel where a resident had tested positive for Covid and needed assistance with his dog. In both cases DOTS took these dogs into their care.
But to help, DOTS has to travel into the ULEZ.
So far, despite other vehicles being given exemptions from the ULEZ charge, no such exemption has been given to DOTS. Consequently they are haemorrhaging money.
You can help, by contacting the Mayor of London, Sadiq Khan, via london.gov.uk and asking him (politely) to exempt DOTS from the ULEZ charge.
Column 26th January 2021