Casualties of this pandemic are beyond measure. Some, like illness and death are, sadly, all too familiar and, of necessity, often in the news but others, less so.
Many have had celebrations for life events muted. Weddings and birthdays have taken place with fewer people present than usual. But other ways are evolving for people to celebrate and, with their Fiftieth Anniversary this year, the National Animal Welfare Trust (NAWT) are making plans.
For starters, each month, they are going to look at aspects of their work which have changed over the past five decades. This month, they're looking at how names of animals have been influenced by films and television shows of the time. For example, in the 70s, animals in their care were likely to be called Fonzie (from Happy Days), Petra or Shep (from Blue Peter) or Kermit (The Muppet Show).
In the 80s, popular names were Hooch (from Turner and Hooch), Rodney (Only Fools and Horses) and Rosco (Dukes of Hazzard). The 1990s saw the names Kryten (from Red Dwarf), Ross (Friends) and Woody (Cheers) coming into fashion.
In the past twenty years, popular names have included Marley (from Marley and Me), Wellard (EastEnders) and Nymeria (Game of Thrones). I'm sure you can add your own. I know a Leia (Star Wars) and an Indy (Indiana Jones).
In 50 years, thousands of animals have passed through NAWT's doors, many named after famous screen stars but, given the chance, all capable of being stars in their own right.
One animal currently in their care who's waiting for his turn to shine is Jack. This beautiful rabbit came into the care of NAWT after his owner had a change of circumstances. He's only one year old and needs to be homed with a friendly neutered female rabbit.
Jack is friendly and although, at first, he may run away, he will come back to say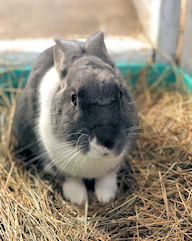 "hello". He enjoys any opportunity to be around people. Jack needs to be homed as a house rabbit. Both the Rabbit Welfare Association and Fund (RWAF) (rabbitwelfare.co.uk) and the RSPCA (rspca.org.uk) give information regarding how to keep a rabbit indoors. An important aspect is ensuring that all areas the rabbit has access to are rabbit-proofed, for example electric wires must be out of reach so they can't be chewed. And, remember whether keeping rabbits indoors or outside, the RWAF's saying that "A Hutch is Not Enough".
If you're interested in homing Jack, see details at nawt.org.uk or call 020 8950 0177.
Column 10 February 2021

Some people you wish you could forget but others, the good ones, you remember for ever. Two years ago, during a crowded Ealing Animals Fair, a man approached me clutching a newspaper article about the benefits of having a pet. Handwritten underneath, he explained how he'd never been able to experience these benefits because he'd always lived in rented accommodation and hadn't been allowed a pet. He told me how much this upset him. This man is not forgotten.
Also not forgotten is the rough sleeper I knew who, even in freezing weather, would not take the accommodation he was offered in London as it would mean being separated from his beloved dog. In the end he was offered accommodation in the north of England where he knew nobody but where he could take his dog. That's where he went.
It is to help people like these that Andrew Rosindell MP has introduced a Bill into parliament which would limit the ability of landlords to have "No Pets" policies. It would prevent landlords from banning responsible owners from bringing well-behaved pets into rented accommodation. Renters would have to prove they are "responsible" by, for example, having a vet's certificate to confirm their pet is vaccinated.
The legislation is being called "Jasmine's Law" after a dog which was separated from its owner because of rental restrictions. This is not an insignificant issue. Battersea Dogs and Cats Home estimate that by 2025, 60% of households in London will rent their homes. Battersea say that landlord restrictions on pets are a common reason for people having to give up an animal. On February 26, Andrew Rosindell will be hosting a Zoom event to discuss the proposed legislation. To register, go to rosindell.com.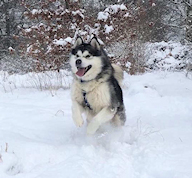 Always to be relied on for essential information, Battersea have issued advice on how to care for dogs and cats during cold weather and judging by the fun Messi, the Malamute, is having, it looks as though it's working. Advice includes ensuring that after dogs have had a walk their paws are dried and checked to ensure there's no salt or grit between the toes. Licking this off their paws could make them unwell.
Battersea also emphasise that dogs and cats should not come into contact with antifreeze as this can result in illness or death. Ethylene glycol, a chemical compound found in antifreeze and frequently used, for example, in car radiators can be deadly, even if only a small amount is ingested. For more Winter advice, see battersea.org.uk.
Last week, many readers living in areas defined by the government as at particular risk from the South African variant of Covid-19 will have struggled with the home test kit delivered by the Council. From accounts I heard, although many gagged on taking the swab what completely floored most people was putting the cardboard box together at the end.
But at least, getting results from a wide number of people will help build a complete view of what's going on. When examining an issue, it's always useful to have a bigger picture which is why Battersea Dogs and Cats Home have commissioned a report on The Impact of Covid-19 on Companion Animal Welfare in the UK. Information was emerging piecemeal about various effects of Covid-19 on animal welfare but this report gives a comprehensive understanding.
Findings of the Report include that last year there was a sharp uptake in pet ownership during lockdown but that 31% of people who acquired a dog or cat had not been considering becoming pet owners before lockdown. Battersea point out these pets are at potential risk of health and behaviour problems as, because of lockdown, there are reduced opportunities for vet visits and socialisation of animals.
They cite Maya and Sophie as examples of an owner unprepared for what they had taken on. These two sisters were brought to Battersea after their owner realised they were too much for her to handle. Initially the owner tried to return the puppies to the breeder she had bought them from via an online marketplace but the breeder only offered a small partial refund. Rather than sell her pets, the owner decided it would be in the dogs' best interests to take them to Battersea. They have now been rehomed.
As well as highlighting problems, Battersea's Report also makes recommendations. These include that potential new owners should be reminded of the benefits of getting their animal from a rescue centre as opposed to buying one from unknown sources online. They also emphasise the need for government financial support for animal charities facing severe financial hardship.
True to form, Battersea not only outline emerging problems but also devise solutions. In order to help owners ensure that, because of lockdown, puppies don't miss out on vital training, they have developed a virtual puppy training course. This programme is a six-week course over Zoom with a limit of six puppies per class. For details go to battersea.org.uk where you can also see Battersea's full Covid Impact Report.