Column 4th February 2019
I've just arrived at Trafalgar Square, it's pouring icy rain and I've discovered my shoes leak. But how can I complain when it's immediately clear that I'm in the midst of lots of other people with wet feet who, unlike me, have no home in which to dry them. More than 24,000 people are currently sleeping rough, in tents or on public transport in Britain and London has their share. I'm on my way to the weekly Sunday afternoon Dogs On The Streets (DOTS) station on The Strand where DOTS give care to the dogs of rough sleepers. I know I'm nearly there when I see two young people with dogs walking with purpose ahead of me. The bitter cold afternoon contrasts with the warmth of the welcome they receive at the dog station.
DOTS was founded in 2016 by Michelle Clark after she had been running a street outreach programme for six years. Already she has won several awards for her work. At the DOTS station, which is also a registered veterinary practice, services offered include health checks, training and grooming. DOTS now have dog care stations in several locations (see dogsonthestreets.org for a full list) with a new one opening soon in Wembley.
With frozen feet, I left the station, past the tents with echoes of Glastonbury to the warmth of Leicester Square underground – fully aware that all it takes is a few wrong decisions for many of us also to be in financial trouble.
I am delighted to say that Michelle is part of the fantastic programme of speakers who will be giving a presentation at this year's Ealing Animal Charities Fair (ealinganimalsfair.london) on March 2 (10.30am-4pm). Other speakers include Dr Alison Cronin (Director of the world-famous ape rescue centre Monkey World), Duncan McNair (Founder of Save The Asian Elephants) and Sea Shepherd. There will also be lots of stalls. The Fair takes place at Hanwell Methodist Church, Church Road W7 1DJ. Admission is free.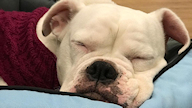 Boo, an Old Tyme Bulldog, wants to get her four feet under someone's table pretty quickly. Although she might be sleeping like a baby now, she knows what it's like to be homeless as she was handed into Battersea Dogs and Cats Home after being found as a stray. Battersea think Boo may be a little hard of hearing so needs owners prepared to try alternative styles of training such as hand signals. If this could be you, see battersea.org.uk
Column 11th February 2019
It definitely seems as though the Ealing Animal Charities Fair is moving up a gear this year. It might be the 41st Fair but it's certainly not losing its momentum. I've just had a twitter message from someone considering flying down from Scotland to attend the day. Part of the attraction is the fantastic programme of speakers at the Fair. These include Dr Alison Cronin, Director of the world-famous ape rescue Centre, Monkey World. At the Fair, she will be representing her late husband's charity, the Jim Cronin Memorial Fund. Speakers also include Duncan McNair (Founder of award-winning Save The Asian Elephants), Greyhound Compassion, Sea Shepherd (always so cool) and Michelle Clark (Founder of multi-award winning Dogs On The Streets). If it was a conference, delegates would pay good money to hear these speakers but, at the Fair, admission is free.
As well as the speakers, there will also be over 35 animal charities/societies with stalls selling bargains and merchandise. These include Mayhew, Compassion in World Farming, Animals Asia, All Dogs Matter, Swan Lifeline and new to the Fair this year, the Dolphin Project.
And then there is the music. Live music is being provided by brilliant composer and musician Alastair Gavin. This year, as well as his keyboard, there's going to be a couple of pianos around the Fair in different rooms, so visitors and stallholders will be able to enjoy Alastair's music in a variety of places.
It's also good news that the Mayor of Ealing and the Ealing MPs, Rupa Huq, Steve Pound and Virendra Sharma will be visiting the Fair.
The Ealing Animal Charities Fair (ealinganimalsfair.london) takes place at Hanwell Methodist Church, Church Road, London W7 1DJ on Saturday March 2 (10.30am-4pm).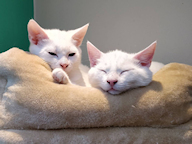 One of the stalls at the Fair that's always laden with wonderful things to buy is the popular Hounslow Animal Welfare Society (HAWS) stall. Their stall is usually twelve feet of treasures. Pirate and Rambler are just two of the kittens currently in HAWS care (and, with a name like Pirate, he's probably interested in treasure too). Their foster mum says these 21 week old boys will play with anyone but have to know you before coming for cuddles. She says they miaow loudly when they want food and miaow silently when they want a cuddle. If you can offer a home to this communicative pair (who must be homed together), see haws-animals.org.uk or call 020 8560 5443.
Column 18th February 2019
Bears, dolphins, swans and monkeys don't usually get a mention here but today it's their turn. All these species (and more) will be represented at the Ealing Animal Charities Fair by people knowledgeable about these animals who feel passionately about their welfare.
For example, did you know a mute swan can fly at 50mph? Swan LifeLine certainly do. Based on Cuckoo Weir Island at Eton, each year this charity rescues over 700 swans and admits over 300 for treatment. Each of their outdoor pens contains a pond that has a constant flow of river water. They rescue and treat sick and injured swans with the aim of returning them to the wild as soon as possible. Swan LifeLine will be at the Ealing Animal Charities Fair and you will be able to talk to them about their work. They provide a 24 hour service for swans in trouble - it could be worth putting their number (01753 859397) in your phone now. You never know when you might need it. I've had the experience, on a rainy night, of turning onto the A4 at Gillette Corner only to meet a bewildered swan waddling west up the eastbound carriageway after, possibly, in the dark, mistaking the glistening wet road for a river - (rest assured, this swan was safely retrieved).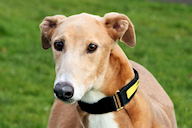 Another fast-moving animal is the greyhound - although this greyhound, Gary, wasn't rushing anywhere when I met him. Fast asleep in an office at Dogs Trust Harefield, the fastest he moved was to amble over to see if any of the treats he could smell in my bag, had his name on them. Gary's a big boy who can find new environments scary. His new owners will need to make multiple visits to the centre before taking him home in order to build a strong bond with him. If this could be you, see dogstrust.org.uk.
Dogs Trust are also amongst the stallholders at the Ealing Animal Charities Fair together with societies representing bears (Animals Asia), dolphins (the Dolphin Project) and monkeys (the Jim Cronin Memorial Fund).
Sometimes it's easy to overlook events on our doorstep in favour of those farther afield but don't be fooled, this Fair, which includes great speakers such as Dr Alison Cronin is a unique gem not to be missed. The Fair takes place on March 2 (10.30am-4pm) at Hanwell Methodist Church, Church Rd W7 1DJ. Free admission. Details at ealinganimalsfair.london.
Column 25th February 2019
Do you like secrets? I'm at the Magician's Convention in Blackpool surrounded by people stuffed full of secrets. I'm particularly partial to the secrets of how magicians can take valuables from someone's pockets without them noticing.
Looking out over the horizon at Blackpool's seafront, I'm reminded the sea is another place awash with secrets – another place where valuables can be taken without anyone noticing.
That's why we need organisations like Sea Shepherd to make sure activities, that should be made public, don't take place, un-noticed, in the depths of the ocean. Sea Shepherd is a marine wildlife conservation organisation who expose and confront illegal activities on the high seas – they shed light on what some would like kept secret. Their mission is to end the destruction of habitat and slaughter of wildlife in the world's oceans.
Campaigns in which they have been engaged include fighting illegal shark fishing and defending whales and porpoises. If you have never heard anyone from Sea Shepherd speak about their work, this Saturday could be your chance - they will be giving a presentation at the Ealing Animal Charities Fair. When I last heard them speak, everyone in the room came out wanting to be a Cove Guardian defending dolphins.
And they do want volunteers. They want passionate ocean defenders who aren't afraid of hard work, dangerous conditions and extreme weather. They want people on their boats for a variety of roles such as mechanics, cooks and medics. Preference is given to volunteers who are available for the most time. Volunteers must be able to swim and be willing to be filmed. Their campaigns take place in oceans around the world including the Antarctic. Details from seashepherd.org.uk.
At the Ealing Animal Charities Fair (ealinganimalsfair.london), Sea Shepherd is part of a fantastic programme of speakers including Dr Alison Cronin talking about the rescue of monkeys, Duncan McNair talking about elephants and Michelle Clark from Dogs on the Streets. There will also be stalls and music. The fair takes place on 2 March (10.30am-4pm) at Hanwell Methodist Church, Church Road, London W7 1DJ.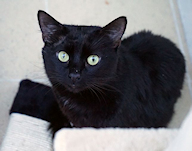 Even if he was eligible, Bagheera couldn't volunteer for Sea Shepherd. He doesn't like being photographed. When I met him, he was very affectionate and enjoyed being stroked but the moment the camera appeared, he became camera shy. Bagheera came into RSPCA care after being found as a stray but he's now waiting for his new home at the Cat Adoption Centre, Burket Close Southall.