They're at it again. They didn't even get through the first episode before it started. I'm talking about the disrespectful treatment of live creatures in ITV's programme I'm a Celebrity Get Me Out Of Here. Right from episode 1, two contestants were seen having live insects unceremoniously tipped over them putting the insects at risk of being crushed or killed. And before we think insects don't matter, let's remember what wildlife expert Chris Packham has said about the programme. He highlights how, since the programme started in 2002, attitudes have moved on. There is now an increasing need to recognise the vital importance of biodiversity and respect for the life of all living creatures.
And it's not just insects which the show uses to create fear or disgust in contestants. So far this series, they've also used rats, snakes, toads and a bearded dragon. Unlike the contestants who want to be on the show, these animals aren't there by choice and deserve better than to be used in stunts to boost ratings. They don't deserve to be presented in such a negative way. The British Veterinary Association and the RSPCA are amongst others voicing serious concerns about animal involvement in the programme. It can give the message that disrespecting some insects and animals is acceptable and even entertaining.
To support those asking the programme to stop using animals, go to ofcom.org.uk. And, while you're there, encourage the programme to produce a more original animal-free version.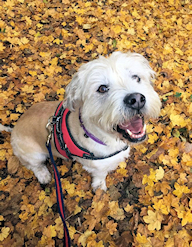 Looking for a home this week is the handsome Chewie. He came into Hillingdon RSPCA's care after his owner became ill and could no longer look after him. Chewie is looking for an adult-only experienced home as he can sometimes be a bit protective. He loves his teddy bear and is good on the lead. If you want to know more, go to rspcahillingdonclinic.org.uk where you can complete an application form.
Hillingdon RSPCA do an enormous amount of vital work. They are currently short of kitten and cat food. If you have any you can donate, take it to their clinic at 16 Crescent Parade, Hillingdon or any of their shops during opening hours. Please don't leave anything outside.
Finally, you could just be in time to book a ticket for Battersea Dogs and Cats Home's Carol Concert on December 2 and 3. Taking place at St Luke's and Christ Church, Chelsea, it's certain to be a memorable occasion. Tickets should be booked in advance and are £33 or £22 from battersea.org.uk.
It was unguarded only for a moment but, quick as a flash, the cat saw his opportunity and seized it. My meal was licked. Part of it was now his (the top part anyway). Fortunately it wouldn't do him any harm. Pets are opportunists and owners need to be vigilant that they are kept away from items they might enjoy but which harm them. This is especially so at Christmas. To assist owners with this, Battersea Dogs and Cats Home have compiled an advice sheet to help ensure pets enjoy the festive season safely. For example, most of us know not to feed chocolate to our pets but Battersea remind us to keep chocolate out of reach so pets don't just help themselves. Other foods that can be harmful to dogs and cats include onions and garlic. Mistletoe, ivy, holly and poinsettia plants can cause your dog or cat to have an upset stomach if eaten or chewed. And we should never give them cooked bones. For more details about Battersea's advice, go to battersea.org.uk and type festive advice into the search box.
It's not just animals that make the most of opportunities, people do too.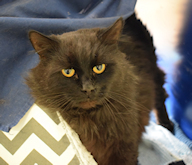 The following saying, attributed to Stephen Grellet, says "I expect to pass through this world but once. Any good, therefore, that I can do, or any kindness I can show to any fellow creature, let me do it now. Let me not defer or neglect it, for I shall not pass this way again". This is such a powerful message and one which guides many of those engaged in humanitarian and animal welfare work. For example, when Martin, a stray, crossed Battersea's path, they seized the opportunity to take him in. Can you imagine what it would have been like for Martin if they hadn't and he had been left homeless outside in the recent freezing weather. This gorgeous boy is looking for a quiet home where he is the only cat and there are no dogs. If this could be with you, see Martin's details at battersea.org.uk.
One final thought about making the most of opportunities. Don't forget that a new vet practice, Paws In The City, has opened at Unit 7, Dickens Yard, Ealing. Because of the current shortage of vets, many people have had difficulty registering their pet with a vet (Gazette Sept 29). If you've found it difficult to register, don't miss this opportunity. For details, see pawsinthecityx.com or call 020 4519 9857. They also have grooming facilities.