Column 5th August 2019
Sitting in a beautiful country lane writing this, an adult and child have just cycled by. As they passed, the child could be clearly heard saying "I'm never doing this ride again, never in my whole, whole life". Keeping children happy in the holidays can be an uphill struggle but there's a brand new event taking place in London this weekend that could help parents out.
The first London Wildlife Festival brings together a whole host of activities for people of all ages interested in wildlife and conservation. There will be the opportunity to go on a wildlife safari and learn about wildlife gardening for families. You will be able to find out about crafts such as wildlife photography, birdwatching, pottery, floristry, landscape drawing and creative writing. The Festival also includes cutting-edge talks on marine life and conservation as well as art exhibitions, live music and literary events, all inspired by nature. The Festival is London's largest ever event dedicated entirely to nature and the wildlife of the UK. It takes place at Walthamstow Wetlands (about 15 minutes tube journey from Central London) on August 10-11 with additional evening talks on August 9. For details and tickets, see londonwildlifefest.com.
If that is too far for you to go, the National Animal Welfare Trust is organising two competitions you can enter from home. Firstly, they are asking people to design the programme cover for their Open Day which takes place on September 7. The closing date for entries is August 22. Secondly, they are organising a children's colouring competition. For details of both these competitions, see nawt.org.uk.
If two months old Scrabble, Othello and Risk entered a competition for cuteness, it would be impossible to decide the winner. This tiny trio arrived at the animal rehoming centre, Mayhew, as unweaned kittens with their mother who had been living as a stray. Once they were weaned, the kittens were vaccinated, neutered and given flea and worm treatment before being ready for adoption. Because socialisation of kittens at this early age is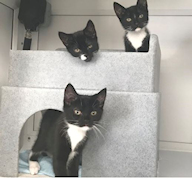 so important, in order to facilitate them growing up into happy confident cats, Mayhew have ensured that, since their arrival, staff have interacted with the kittens several times a day. It's important that during socialisation new experiences are positive.
The kittens are looking for a family with older children who have time to spend with them to continue their socialisation. If this could be you, see themayhew.org or meet them at Mayhew, Trenmar Gardens, Kensal Green.
Column 12th August 2019
Coincidences do happen. What are the chances of never having been to the Derbyshire town, Chapel-en-le Frith, before but arranging to meet someone for lunch there, on the same day the town became national news because the nearby Toddbrook Reservoir, was in danger of collapse. Although we didn't know what was wrong, our lunch was accompanied by fire engines and police accelerating past.
We were camping at another Derbyshire Reservoir, Carsington Water - a fantastic place to visit. Run by Severn Trent Water, highlights for visitors include not only water sports and well-stocked RSPCA and Royal Society for the Protection of Birds shops but also a focus on conservation and bird watching. There are bird hides, bat towers and wet woodlands. Recent sightings include an osprey, kingfishers, redstarts and common scoter.
But Carsington Water, with its abundant wildlife, also highlights the effects of climate change on people, the environment and animals particularly wildlife. Over the last 100 years the earth's temperature has risen by 0.7°C. We are already seeing the highest temperatures ever experienced and increasingly extreme weather. We went on holiday on one of the hottest days ever recorded and, just a few days later, visited Chapel-en-le-Frith after many parts of the country experienced torrential damaging rainfall. Information at Carsington Water explains why, with climate change, such incidents are unlikely to be a coincidence and will have serious consequences for us all – humans and animals.
Climate change is caused by a rise in the concentration of greenhouse gases, including carbon dioxide, in the earth's atmosphere, primarily due to human activities. In order to minimise climate change, we need to reduce our damaging emissions and increase renewable energy production. As individuals, ways we can help include by eating less meat, flying less often and, as Carsington Water points out, by not wasting water - it takes a lot of energy to treat and supply water to people. But sometimes we can't economise on water and for many animals a constant supply of fresh water is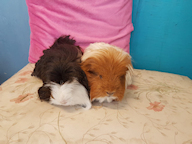 vital – Jesse and James are no exception. These two gorgeous boys came into the care of the National Animal Welfare Trust (NAWT) after their owners moved and the guinea pigs could not be taken with them. Jesse and James are used to living indoors but would like a secure, spacious run with a shelter in the garden for when it's nice weather. For details see nawt.org.uk or you can meet them at NAWT rehoming centre, Tylers Way, Watford by Pass.
Column 19th August 2019
On average Battersea Dogs and Cats Home take in 13 dogs and 9 cats a day – 365 days a year. Each cat or dog that goes through Battersea's gates is cared for according to five quality standards. Firstly, subject to space, Battersea aims never to turn away a dog or cat in need of their help. So, when Larry the Jack Russell Terrier, arrived as a stray at Battersea's door, he was accepted as a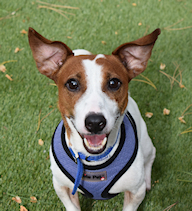 needy boy and taken into their care. Battersea has a non-selective intake policy which is increasingly rare in animal rescue. It means they never know what sort of dog or cat is coming through their gate next.
The second standard is that Battersea aims to ensure every dog or cat receives the highest standards of care. Since Larry arrived, he will, for example, have been cared for by those skilled and trained in canine behaviour. Thirdly, Battersea aims to keep all their animals as healthy as possible - care for Larry will have included a full veterinary assessment.
The fourth Battersea standard is that they ensure dogs and cats pass through Battersea as safely and quickly as possible with the best possible outcome for each of them – Larry arrived at Battersea on August 4 and is now ready for rehoming. For some animals, it may take longer but Battersea never put a time limit on how long an animal waiting to be rehomed can stay.
The fifth standard is that Battersea provide advice and support to new owners to maximise the chances of successful rehoming. If you would like to talk to Battersea about becoming Larry's new owner, he is currently at Battersea's Old Windsor site, call 01784 494443 or see details at battersea.org.uk.
In order to raise funds to maintain these standards and have a great day out at the same time, Battersea is organising Battersea's Big Day Out on Saturday September 7 (10am – 5pm) at Stoke Park, Guildford. There will be a dog show, agility, Ambassadog Parade, games and lots more. Admission is free.
Finally, the RSPCA clinic at Burket Close, Southall is organising more free cat neutering days. The next day is Wednesday August 28 for female cats and Thursday September 5 for male cats. No appointment is needed. The cat must be starved from 8pm the night before. Owners need to arrive no later than 8.45am-9.00am (first come, fir seen). Cats should be ready for collection at 3.30pm. Details from 0300 123 0746 option 3
Column 26th August 2019
It would have been JoJo's idea of a nightmare. I was on my way back from Dogs Trust after meeting the wonderful French Bulldog, JoJo, when I stopped off at a supermarket. JoJo doesn't like the sound of a baby crying. There ahead of me, in the queue, perched high in the shopping trolley were twin babies. JoJo's hair would have stood on end – two of them.
Mind you, when she had her own babies three years ago, JoJo was a fantastic Mum. She was pregnant when she first came to Dogs Trust in May 2016. She delivered six puppies who she looked after brilliantly and they were quickly homed. JoJo herself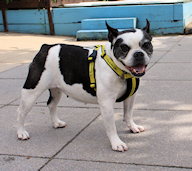 was homed soon afterwards but, three years later, a new baby arrived and, since last month, JoJo has found herself back at Dogs Trust looking for a new home.
When I met her in Dog Trust's courtyard, she raced over to meet me – a gorgeous chunky girl who quickly steals your heart. She likes meeting new people and loves cuddles. She can be worried by other dogs. If you'd like to meet her, she's waiting at Dogs Trust, Harvil Road, Uxbridge or see dogstrust.org.uk.
Just one of the responsibilities that comes with the many benefits of dog ownership is making sure that when you go away, if you are not taking your dog with you, suitable arrangements are made for your dog. Readers who normally put their dogs in kennels may like to know the animal rescue charity, National Animal Welfare Trust (NAWT) has started a pet boarding service. At present, the Hertfordshire centre (address below) accepts dogs and small animals but, in the Autumn, they will also board cats. Dogs are walked four times a day and given plenty of fuss and attention. Proceeds from the boarding supports the homeless animals who pass through the centre's hands.
If you want to look round the boarding kennels before leaving your dog there, you can visit between 10am -10.30am. Whilst the animals in the rehoming kennels can be viewed by the public daily, the boarding kennels are closed to the public.
If you're interested in making a booking, see details at nawt.org.uk or call 020 8950 0177.
The NAWT centre is holding their major open day on Saturday September 7 (11am-4pm). There will be a Dog Show, lots of stalls and an agility course. You can also look round the animals. The centre is at Tylers Way, Watford by Pass WD25 8WT.