Column 7th October 2019
It wasn't easy to see him breathing. Thin as a rake, white as a sheet and slumped on the pavement with his eyes closed, I thought he had died. This was an ordinary Sunday afternoon in London and, as usual, it was painful seeing people who have to make their home on the streets.
I was on my way to the weekly Dogs on the Streets (DOTS) station which takes place in the heart of where many people sleep rough – the Strand. Founded by Michelle Clark in 2017, this award-winning charity supports the dogs of rough sleepers and their owners. On arrival at the station the welcome is palpable. Two volunteers serve hot food for the owners, one volunteer sorts out supplies for the dogs, other volunteers are talking to the clients.
Sandwiched between these tables and Charing Cross police station is DOTS large "vet van" which is also a RCVS registered veterinary practice equipped to undertake veterinary care, vaccinations, biopsies and blood tests.
The dog station is busy, seeing about 20 dogs, unsurprising as homelessness in London has increased. For rough sleepers with dogs, getting off the streets is particularly difficult as many hostels do not accept residents with dogs. DOTS also help clients find accommodation with their dogs and represents them at meetings with services and councils.
DOTS also have foster care kennels where dogs can be cared for if an owner is hospitalised. If you need to tell a rough sleeper with a dog about DOTS, their station is on the Strand every Sunday afternoon between 2-4pm.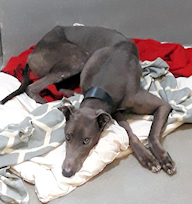 Contrary to dogs who live on the streets who meet a variety of dogs, before ex-racing greyhound, Everest, arrived at Battersea Dogs and Cats Home, it's thought he hadn't met any dogs other than greyhounds. Consequently, Battersea's staff have been helping him feel comfortable with a variety of breeds. Everest is a friendly boy who loves toys and cuddles - he's also likely to need help remembering his manners in his new home. If this could be with you, Everest is waiting at Battersea's rehoming centre, Battersea Park Road.
For the first time, there's going to be an animal blessing service at the Church of Our Lady of Lourdes in Acton on Saturday October 12 (2pm). We are invited to bring our pets along to celebrate their greatness and worth. If you can't bring your pet to Church, you are welcome to bring a photo – including photos of beloved pets who have now died..
Column 14th October 2019
Can you imagine owning a field and, if so, waking up one morning to find a horse grazing in it that doesn't belong to you? As a record number of horses are being abandoned, that's the reality for some people.
Last year, the RSPCA rescued 1797 horses that had been abandoned, neglected or cruelly treated. And such rescue isn't cheap. It costs, on average, £5000 for the RSPCA to care for one horse from arrival into RSPCA care until adoption. At present, they have over 600 horses in their care. Because they are constantly being asked to rescue more horses, 76% of these are in private boarding as their equine centres are full.
I've just spent the morning at the RSPCA centre at Southridge, meeting four horses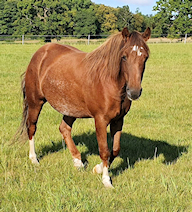 that have been abandoned. One of them, Lilly, is a chestnut mare who came to the RSPCA when she was 1 year old in an emaciated state after being abandoned in a field. She is now 4 years old and looking beautiful. She's full of character and can be cheeky – importantly, she's learnt how to open gates. The RSPCA want to home Lilly as either a companion pony or as an inhand show pony. Horses are sociable animals that shouldn't be housed alone so several of their horses are recommended for rehoming as companion animals.
But the RSPCA also have horses for rehoming that are suitable for riding. Just take a look at their website (rspca.org.uk) to see the wide range of horses available for adoption. If you're thinking of getting a horse, consider adopting one from the RSPCA. Because horses cannot easily be moved between centres, you may have to travel to meet the horse as they are never homed unseen.
If your application to adopt a horse is successful, there is an adoption fee plus every horse will be microchipped, have a passport, be vaccinated against tetanus, have had their feet and teeth checked and be accompanied by a detailed history of what's happened to them in RSPCA care. When the horse goes to their new home, the RSPCA keep in touch for six months to see how things are going. After that, if all parties are happy, ownership of the horse is officially signed over.
If you would like to meet Lilly, the RSPCA Southridge rehoming centre is at Packhorse Lane, Potters Bar.
Meanwhile, if you think you've found an abandoned horse, Blue Cross (bluecross.org.uk) have helpful guidance on what to do.
Column 21st October 2019
In recent days, a consistent news story has emerged - the story of Norman, the lamb. Norman was born in Western Scotland, to a crofter who kept a few animals. When Norman was born, he was the weakest of triplets and had trouble feeding. Melanie, his kind owner, was continually with him for the first 48 hours helping him get on his feet. As he grew, Norman was a happy lamb enjoying Melanie's affection – even though she knew they didn't keep the boys. The day came to sell Norman and, despite Melanie's heavy heart, Norman was sold at market.
Two weeks passed and Melanie tried to forget Norman but couldn't. So, with some trepidation, she decided to try and get him back. She tracked him down to a farm on the other side of Scotland.
On arrival at the farm, and seeing hundreds of lambs in the field, Melanie expected finding Norman to be difficult. But, on stepping out of the truck, wearing the pink hat she wore at home, to her astonishment, a lamb immediately ran towards her "like a bullet". She had never seen a lamb run so fast before. It was Norman – she scooped him up and took him home.
This is a wonderful story for Norman. But it's also a reminder that one of the reasons many people are decreasing their consumption of animal produce is because of the growing realisation that animals who are sentient and capable of suffering can, with modern farming methods, have a grim life and death. If you would like to know more about relying less on animal produce, Vegfest (with 370 stalls and 150 speakers) takes place at Olympia on October 26 and 27. Details from london.vegfest.co.uk.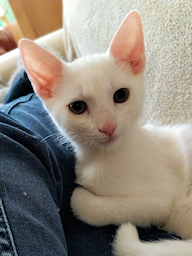 Now let's meet a gorgeous family who also need someone to say "let's go home". This Mum and her kittens came into the care of Hounslow Animal Welfare Society (HAWS) when the kittens were three weeks old. The kittens, Major Tom, China Girl and Hermione are now 16 weeks old and friendly. The Mum, Ziggy Stardust, is currently living in a separate foster home as, although she tried hard to be a good Mum, she is only young herself and was getting stressed.
Some white cats can be prone to deafness and HAWS have been vigilant for this but they do not, at present, think these cats are deaf. If you would like to home one or two of this lovely family, call 020 8560 5443 or see haws-animals.org.uk.
Column 28th October 2019
Trudie has just been asked to take ownership of a Patterdale Terrier – she doesn't even know his name. All she knows is that he is in a dog pound and if she doesn't take him, he will die.
When a stray dog is found, it's usually taken to a dog pound (via a dog warden) where it waits for a minimum of 7 days to be claimed by its owner. If the dog has not been claimed by the end of 7 days, it can be rehomed. Dogs who receive no offers from a rehoming centre to take it in are at risk of being put to sleep. According to Trudie, one dog every hour is put to sleep in the UK in a dog pound.
Trudie founded Doris Banham Dog Rescue (DBDR), in order to rescue, from pounds, dogs who are at the end of their 7 day period of detention and are definitely going to be put to sleep. She continually gets calls from pounds asking her to take dogs. Her criteria for taking a dog are that, if she doesn't take that dog it will die (it has had no rescue offers), can she afford to take the dog and does she have a free kennel. She rescues as many as she can regardless of age, breed, veterinary condition and training needs. But she can't rescue them all. At present DBDR cares for over 80 dogs costing over £8000 a month in kennelling alone. She has rescued over 15,000 dogs since 2004.
Although Trudie collects dogs from pounds around the country and rehomes all around the country including London, the dogs are cared for in Nottinghamshire. The kennels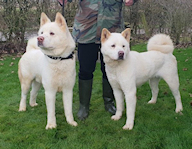 there puts them through quarantine, and assesses their veterinary and retraining needs. When ready, they are available for rehoming.
Ready for rehoming now are Angel and Simba - Mother and son who were found in a filthy condition wandering the streets. They are devoted to each other. This photo was taken just after their first bath. If you are interested in homing Angel and Simba, see dorisbanhamdogrescue.org or call 07984 143253.
Many readers will have met Trudie as, for several years, she has had a stall at the Ealing Animal Charities Fair. They will be pleased to know last week she won the International Fund for Animal Welfare Animal Action Award for Dog Rescue.
Meanwhile, I've just heard from Trudie that the Patterdale Terrier is, as we speak, currently in transit to the Nottinghamshire kennels.