Column 4th November 2019
There's more good news from Dogs Trust. A few weeks ago, we heard that Dogs Trust's Dog School had just started training classes at Brentford (in addition, of course, to the classes already being held at their rehoming centre in Uxbridge), now we hear they have also started classes at the 1st Notholt Sea Scout Hut in Grandstand Way on Thursday evenings.
Dog School was created by Dogs Trust in 2016 with the aim of reducing the number of dogs relinquished or put to sleep because the owner is not able to cope with their behaviour. They aim to ensure that every dog and their owner has a strong bond of friendship, ready to face life together.
Training for owners and their dogs is divided into puppy, adolescent, adult and rescue dog classes. There's up to six dogs per class with two experienced trainers. Topics covered include teaching your dog to sit and lie down, how to walk nicely on the lead, how to greet people without jumping up and how to read your dog's body language. It's positive reward-based training which helps you understand your dog and prevent problems. Courses cost £55 (£45 for Dogs Trust dogs). If you want to know more call 07393 140884 or email londondogschool@dogstrust.org.uk. If you can't manage to attend classes, you can see Dogs Trust's training videos which cover a wide variety of topics at dogstrustdogschool.org.uk.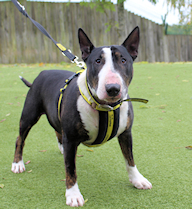 Let's hope Chico hears some good news soon. This chunky 7 year old English Bull Terrier only recently came into Dogs Trust's care but he's hoping not to be staying too long. When I met him, he was giving a precious tennis ball, his undivided attention. He is looking for an active owner who can handle his energy and strength. If you would like to meet this gorgeous boy, he's waiting at the Dogs Trust rehoming centre, Harvil Road, Uxbridge UB9 6JW.
Now for a reminder that, if you belong to a community or social group where you are looking for outside speakers, you can book a free talk from a Dogs Trust speaker to talk about their work. Alternatively, you can book a tour of the rehoming centre – always a very special place to visit. If you're interested call Sian on 01895 453951 or email sian.bourn@dogstrust.org.uk.
Finally, Dogs Trust are holding a Christmas Fair on Saturday 23 November (11am-4pm) at the rehoming centre (address above). Parking at the centre is limited so you may want to consider going by public transport.
Column 11th November 2019
Some people dream they can fly but last Saturday, on Brighton seafront, it was so windy I almost flew up to join the seagulls circling the pier. But it wasn't just my body that nearly lifted off but also, the salty walk along the seafront made my spirit soar. Different things make people's spirits soar and, for some time now, the animal rescue centre, Mayhew have thought their TheraPaws programme is one of them. In this programme, Mayhew volunteers and their dogs visit older adults in care homes with the intention of promoting the wellbeing of the older person.
In order to find out, scientifically, if residents' wellbeing improves, Mayhew combined with Middlesex University London to carry out a mixed-method research study. As part of the study, observers watched the interactions between dogs, residents and volunteers when a dog visited a home. Findings showed that the visits to the Home from the dog (formally called Dog-Assisted Therapy) had a transformative impact on those who took part in the TheraPaws programme. Benefits for the resident included helping to reduce loneliness, improve mood and bridging gaps between residents and their family.
The TheraPaws programme is just one strand of Mayhew's multi-faceted work. Another strand is their work abroad in places such as Afghanistan and Georgia. In order to learn more about their work in Georgia, Mayhew is hosting an informative evening on Thursday November 14 (7pm–9pm) at Kensal Rise Community Library. There will be Georgian wine-tasting, traditional Georgian music and gifts to buy. Proceeds will go towards Mayhew's street dog population management programme (dogs who, no doubt, could do with their spirits lifting) and training vets in Georgia. Tickets are £15 adult / £5 concessions.
Mayhew's work also, of course, includes rehoming dogs and cats in London and Molly and Misty are two young kittens currently looking for a home. Born outside, they are gentle sisters who need to be homed together. They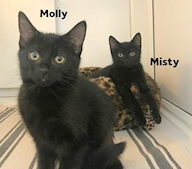 can be left for no longer than four hours a day as they need some extra supervision and socialising to become well-rounded cats. If you're interested in homing them, see themayhew.org or call 020 8962 8000.
In order to raise funds for their work, Mayhew is holding a Christmas Fair on Sunday November 24 (12pm-4pm). You will be able to look behind the scenes, meet Santa, buy gifts and listen to live entertainment. You can also meet some of their TheraPaws dogs. The Fair takes place at Mayhew, Trenmar Gardens, Kensal Green.
Column 18th November 2019
Fifi is monumentally beautiful – inside and out. When I met her she was perched on a shelf attached to the door of her pen. When I opened the door she swung out and when I closed the door she swung in. She sat on this shelf for the whole visit and, as I left, she calmly swung in and out again. The staff at the rehoming centre describe her as a "special lady" and "so affectionate".
Fifi came into the care of the RSPCA when her owner couldn't care for her anymore.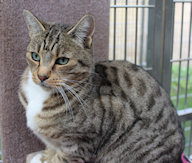 When we get a pet, our intention should be to keep the pet for the rest of their lives. But, if something unthinkable happens and we can no longer care for them, it's important the animal continues to be well cared for.
If you got your pet from a rescue centre, they would want to know you can't keep the animal anymore so you should contact them about taking them back. You may have to go on a waiting list but they will provide guidance. Otherwise, contact a reputable animal rescue centre to see if they can take them in. Websites such as catchat.org provide useful contact details for centres (not only useful for cats but also other animals) and sites such as battersea.org.uk also offer advice. Some charities such as Blue Cross have a scheme whereby the animal stays with you while they look for a new home.
Please don't abandon your animal. This is cruel and illegal. Remember also there are dangers to advertising animals online, for example, unscrupulous people use such sites who can't get animals from a reputable source. It's essential the person who takes on your pet, will look after them well.
If you can offer Fifi a loving home, she is waiting at the RSPCA Cat Adoption Centre, Burket Close, Southall.
Residents at the centre are busy finalising their lists for Santa. By December 1, each cat will have a list for Santa and a stocking hanging outside their pen. These gifts are especially needed as, this week, someone stole the RSPCA's piggy bank from Reception. This money was for the cats Christmas treats.
Also on December 1, real Christmas trees will be on sale in the Adoption Centre's car park with a donation from each tree sold going to the centre
Finally, the Adoption Centre (address above) is hosting a Christmas evening on Wednesday December 11 (5.30pm - 7.30pm). There will be carols, refreshments and games.
Column 25th November 2019
After looking forward, for weeks, to seeing the Kew Christmas lights, my visit tomorrow is in jeopardy. The person I was going with can't stand up without wobbling over. I may not be going - I'm reminded not to take anything for granted. This also applies to not taking for granted that there will always be animal rescue charities around to look after animals in difficulty.
For example, the National Animal Welfare Trust (NAWT) is, at the moment, having a wobble of its own. Similar to other charities, their income is down, particularly from legacies. Although, when I write here about the NAWT, I'm referring to our nearest centre at Watford, there are five other NAWT centres – one of which, in Somerset, may have to close.
In order to ensure the Watford centre continues to be viable, the Manager is devising innovative ways of raising funds. Following quickly after the opening of their boarding kennels, they have just opened a cat boarding facility. They have 5 pens and can take a total of 10 cats. If you're interested in boarding your pet there, see nawt.org.uk or call 020 8950 0177. The address is Tylers Way, Watford-by-pass WD25 8WT.
Also in order to raise funds, the rescue centre has recently launched their Events Centre. Located in the heart of the rehoming area, this venue is a unique location which could be used for private or corporate events. Price is £70/day, £40/half day. For more information contact j.defriez@nawt.org.uk.
Now to some Christmas activities. On Sunday December 1 (11am-3pm) the centre is holding their Christmas Market. There will be stalls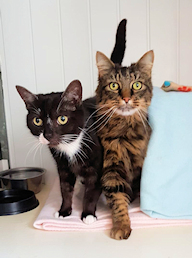 plus Santa will be there. During December, NAWT are also holding their Shoe Box Appeal during which supporters fill a box with Christmas presents for the animals and then, the best part, drop it off at the centre. It can either be a box for dogs, cats, small animals or a mixed box.
NAWT are also part of the Big Give Christmas Challenge whereby donations made between December 3 and December 10 will be doubled at no extra cost to you. To participate, see nawt.org.uk..
Just a reminder now, of why NAWT need this money. Jelly and Scarlett have been in the care of NAWT since May when their owner moved and their cats couldn't go with them. These two gorgeous boys are great friends and must be homed together. If this could be with you, they are waiting at the NAWT rehoming centre (address above).