Column 13th January 2020
I should have realised that if you go for a nature walk with Chris Packham, you go for a nature walk with Chris Packham, you're not going for a short stroll round the park. But, no matter how exhausted I was at the end of it, every second was worth it. The famous broadcaster, Chris Packham, was leading a walk through the Colne Valley at Denham looking at the destruction of the wildlife habitats caused by HS2. Wildlife in the area includes water voles, otters, ospreys, willow tits, and lesser spotted woodpeckers.
At one point, Chris spotted a wellingtonia tree which had little holes pecked into it by treecreepers. He explained how they peck into the soft bark and, when it's very cold, they put their beak in the hole and fluff their bottom up. If HS2 goes ahead, with its plan to damage or destroy 108 ancient woodlands, much of this wonderful habitat and the wildlife that lives there will be lost. If you want to know more, see rethinkhs2.org.
Since 1979, one way of monitoring what is happening to UK wildlife is the Big Garden Birdwatch. Organised by the Royal Society for the Protection of Birds (RSPB), it is the world's largest wildlife survey providing data regarding changing bird populations and distributions. For example, there has been a 76% decline in the song thrush since the survey started.
To take part in the Birdwatch, all you have to do is choose an hour between January 25-27 and watch the birds in your garden or local park for that hour. Only count the birds that land in your garden or park, not those flying over. To avoid counting birds twice, you count the highest number you see of each bird species at any one time in the hour – not the total you count over the hour. They also want to know what other wildlife (such as hedgehogs, frogs)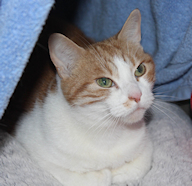 you see in your garden or local park. To take part, go to rspb.org.uk.
No doubt many cats are already taking part in a birdwatch survey of their own. Not that this applies to Demi. This gorgeous girl came into the care of the RSPCA after being abandoned. When I went into her pen to meet her, she was initially hiding under a blanket but she soon came out to make friends. If you would like to meet Demi too, she is waiting at the RSPCA Cat Adoption Centre, Burket Close, Southall.
Column 20th January 2020
Sharing an office with someone can be irritating. There's the noisy eater (who's always eating crisps), the nosy parker and the sniffer. There's the person who's negative and the know-it-all. Not forgetting, of course, the untidy, the unsociable and the lazy (who are always first to look busy when the manager arrives).
So when I went to Dogs Trust recently and found Sizzles sharing an office with staff, I knew she must be good company or they wouldn't have invited her in.
Comparing her to the above check list,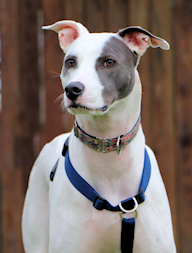 she is certainly not untidy. All her toys were stacked neatly in the office, except the ones she was playing with and Sizzles, a Lurcher, was perfectly groomed, not a hair out of place. She's also not negative. Sizzles greeted me happily when I arrived and it was easy to see why one of her canine carers said, she's fun and makes you laugh.
Lurchers are usually a cross between a sighthound breed (such as a Greyhound) and a Collie or Terrier. As such, Sizzles is likely to have many sighthound traits both in speed and brains. I could see she might be a bit of a nosy parker watching to know what's going on. She might also be a bit of a sniffer, she quickly sniffed out my bag of treats but politely waited to be given some. With regards to being sociable, Sizzles loves human company but can be reactive to other dogs and will need experienced owners who understand this. She's also not lazy, she's a strong girl who would enjoy some training to keep her stimulated. She already knows several commands. If you would like to meet Sizzles, she's waiting at the Dogs Trust rehoming centre, Harvil Road, Uxbridge.
Sharing an office with Sizzles was Dogs Trust's Education and Community Officer, Rosie. Education is an important part of Dogs Trust's work. Since 2003, they have been delivering free educational workshops and lessons encouraging positive attitudes to dog welfare. Underpinning themes of the lessons are staying safe around dogs and responsible dog ownership.
Benefits of these sessions for teachers include that the Dogs Trust officer comes to you and the workshops cater for a wide variety of learning styles. Benefits for the pupils include the teaching aims to develop compassion for all living beings and workshops are delivered in imaginative ways which create memorable and positive learning experiences. For more information email rosie.allen@dogstrust.org.uk or call 07551 805 406.
Column 27th January 2020
When you looked up you could see the roof sagging. Although that part of the rabbit housing wasn't being used, it was easy to see the whole roof needed repair. Bit of a problem when it will cost £1000 and you've only got £630. But fortunately the rabbits currently in the care of the National Animal Welfare Trust (NAWT) aren't bothered. They are just glad not to be stuck in a hutch with no run at the end of someone's garden. Although rabbits are the third most popular pet in the UK, they are among the most neglected. Countless rabbits spend miserable lives confined to a hutch, alone and with no space to exercise, mostly because owners don't know what's involved before taking them on.
But there is plenty of helpful information available and the Rabbit Welfare Association & Fund (RWAF) is a good place to start (rabbitwelfare.co.uk). They show how rabbits are beautiful curious animals who deserve to live happy lives. And, from the owner's point of view, what's the point of keeping a rabbit if you can't see them carrying out many of their natural behaviours such as running, digging and grooming their partner. The message, as always, is "A Hutch Is Not Enough". The minimum area for living accommodation that RWAF recommend for rabbits is 10 feet by 6 feet by 3 feet high but the bigger the better. RWAF have lots of ideas for rabbit housing (both indoors and outside) which can be fun to create. It's also important to remember that rabbits are sociable so each rabbit should be kept with at least one other friendly neutered rabbit.
Rabbits can live for 10-12 years, so if someone in your family wants a rabbit, think about what may happen in the future.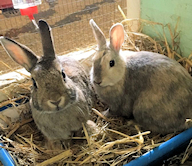 Sisters Coco and Peaches are only 1 year old but are already in a rehoming centre. Although they are friendly, they aren't used to being handled so will need a confident new owner who can spend time with them. Coco and Peaches like playing with toys and love their hay and vegetables particularly parsley. They must be homed together. If you are interested in homing this gorgeous pair, they are waiting at the NAWT rehoming centre, Tylers Way, Watford.
Meanwhile, in order to raise money for the roof repair, NAWT have a variety of activities including daily petting sessions (must be booked in advance) and animal boarding for cats, dogs and small animals. Details from 020 8950 0177 or nawt.org.uk.