Column 3rd February 2020
We're all bonded to different things. As well as feeling bonded to every single animal, flying insect or swimming fish in the world, I'm bonded to my handbag. I've just had to give it up for security screening at Portcullis House and, as I waited for it to emerge from the tunnel, it felt like part of my body was missing.
It's in recognition of the bonds we form that the animal rescue centre, Mayhew, have just launched a series of powerful poems across London tube stations highlighting the bonds people can have with animals. Mayhew hope that as people wait for their train, they will read the poems and reflect on their relationship with the animals in their own lives. Each poem is accompanied by a poignant single line drawing by the artist Dane Khy. This new initiative by Mayhew, called "A life, shared", emphasises that the bond between owner and pet is close and reciprocal, with each relying on the other.
Particularly because of their work with vulnerable people, Mayhew is well positioned to know this. For example, for 10 years, they have offered a Pet Refuge scheme whereby they support vulnerable people and their pets at a time of crisis such as if the owner is hospitalised. They recognise the importance of providing practical help, for short periods of time, to ensure the animal is cared for during such separation and the bond is not broken. For details of this scheme, see themayhew.org.
Of course, it's not just the human/animal bond which concerns Mayhew. Although not biologically related, young cats Coco and Monkey have an incredible bond with each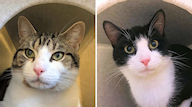 other and must be homed together. They lived in the same house all their lives until they came into Mayhew's care when their owner emigrated. Coco and Monkey are sweet and gentle but can be shy at times. If you think you may be able to home them, see themayhew.org or call 020 9862 8000. Mayhew is at Trenmar Gardens, Kensal Green.
In order to raise funds for their work, it's good news that Mayhew will be having a stall at the 42nd Ealing Animal Charities Fair on Saturday March 7 (10.30am-4pm) at Hanwell Methodist Church, Church Road. I'll be giving more details in coming weeks but this year's Fair promises to be better than ever with nearly 40 animal charities participating and a packed programme of eminent speakers. Admission is free. For details see ealinganimalsfair.london and follow us on Twitter @EalngAnimalFair.
Column 10th February 2020
There's great news for all fans of the programme Monkey Life which is on television for several hours every Sunday afternoon. Dr Alison Cronin, Director of Monkey World, the world-famous ape rescue centre where much of the series is filmed, will be giving a presentation at this year's Ealing Animal Charities Fair. Alison, who features in the programmes, will be talking about her primate rescue work in this and other countries. If you haven't relaxed on a Sunday afternoon watching the power-struggles and mischief of the rescued chimpanzees and orang-utans at Monkey World (Pick Channel) or if you haven't visited the multi-award winning rescue centre in Dorset, you are missing a treat. The Fair is a wonderful opportunity in London to hear Alison and meet members of her team.
As I write this, I have just seen that Jill Robinson, founder of another society who has a stall at the Fair, Animals Asia, is on her way to Chengdu in China, to be with the staff and animals in their bear sanctuary there and make sure they have all they need in case of shortages because of the coronavirus. This sanctuary is home to 51 bears rescued from bear bile farms. The Animals Asia stall is always very popular at the Ealing Animal Charities Fair and is a great way of helping these needy animals.
With 40 animal charities represented at the Fair and a brilliant programme of speakers, it's a great day out, not to be missed. The Fair takes place at Hanwell Methodist Church, Church Road, W7 1DJ on Saturday March 7 (10.30am-4pm). Admission is free. More details at ealinganimalsfair.london. Follow on Twitter @EalngAnimalFair.
The Fair is likely to be busy so it doesn't sound like the sort of place that Dolly, the Lurcher, would enjoy. Dolly came into the care of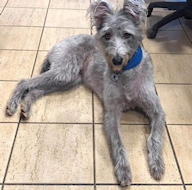 Battersea Dogs and Cats Home after her owner's circumstances changed. He had owned her since a puppy. Dolly is an active, affectionate dog who, when she feels comfortable, has a fun personality. But she also has a sensitive side and can be worried by new people and unknown places. She needs to be walked in quieter areas as she doesn't like busy locations. Battersea say her unique ears are always a talking point when she's out walking. She is looking for owners with knowledge of sighthounds and their chase drive. If this could be you, Dolly is waiting at Battersea Old Windsor. See battersea.org.uk or call 01784 494 443.
Column 17th February 2020
Despite fierce storm Ciara raging, Dogs on the Streets (DOTS) had their usual station on The Strand last Sunday. When I visited them, the wind was so strong, it felt like I was being picked up and parachuted in from the underground. DOTS is a fantastic charity that looks after the dogs of rough sleepers not just in London but also other locations around the country. As well as giving out canine essentials, they also have a large van which is registered as a mobile veterinary practice. True to form, on Sunday, despite the challenging weather, the founder of DOTS, Michelle Clark, was at the dog station together with her team of frontline volunteers. That afternoon they saw 18 dogs. DOTS have a dog station every Sunday afternoon (2pm to 4pm) on The Strand next to Charing Cross Police Station. If you want to know more about their work, it's great news that DOTS will be having a stall at the Ealing Animal Charities Fair on March 7.
Another charity having a stall at the Fair is the award winning charity, Nowzad. This charity was created by Pen Farthing, a former Royal Marine commando after he broke up a fight between two dogs in the town of Now Zad in Afghanistan in 2006. Following the fight, one of the dogs followed Pen and they ended up spending the next six months together.
At the end of his deployment, Pen brought the dog home to the UK and founded the charity Nowzad which, after they have returned home, reunites service personnel with the dogs and cats they befriended while on service. Nowzad also operates a busy animal shelter in Afghanistan which is staffed by a team of Afghan nationals. It's good news that Pen, who is the author of the bestselling book, One Dog at a Time, will be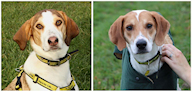 giving a talk at the Ealing Animal Charities Fair. This popular event takes place on Saturday, March 7 (10.30am to 4pm) at Hanwell Methodist Church, Church Road, W7 1DJ. Forty animal charities will be there plus there is a fantastic programme of speakers. See details at ealinganimalsfair.london. Admission is free.
Nearer to home, Dogs Trust will also be having a stall at the Fair. Currently waiting there for a new home are Sandy and Nell, two stunning Trailhounds who need to be homed together. If this could be with you, Sandy and Nell are waiting at the Dogs Trust rehoming centre, Harvil Road, Uxbridge.
Column 24th February 2020
There was an urgency in Ed's eating that made you realise he knew what it was like to be starving. Not that he's hungry now but he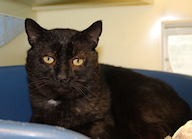 remembers. It was Valentine's Day when we met and I knew straight away, he was my type. Strong, streetwise but gentle. The RSPCA think that Ed is about 4 years old and has been a stray for most of his life. Despite this, when I met him, he was friendly and loved having his head rubbed. He's looking for an adult-only home where he will be the only cat. If this could be with you, Ed is waiting at the RSPCA Cat Adoption Centre, Burket Close, Southall.
There's also an urgency about most of what I'm doing at the moment. The 42nd Ealing Animal Charities Fair is fast approaching and there's still a lot to be done. This year it is bigger than ever. We have 40 animal welfare societies taking part plus a full programme of eminent speakers. You can see which societies will be there by visiting the website ealinganimalsfair.london.
They include regulars such as All Dogs Matter, Save The Asian Elephants, Mayhew, National Animal Welfare Trust, Friends of the Earth and Sea Shepherd (always cool) as well as new ones such as Animal Equality and The Retreat Animal Rescue Sanctuary. Speakers include wildlife expert and well-known broadcaster Dominic Dyer, Dr Alison Cronin - Director of the world-famous ape rescue centre, Monkey World, which is on television every Sunday afternoon for several hours (Pick channel), lawyers from the UK Centre for Animal Law and Jack Reece, a vet who works with the charity, Help in Suffering, in India. At a conference, people would pay good money to hear our speakers and visit our stalls but, at the Fair, admission is free. There will be lots of information available plus gifts and bargains to buy. You're welcome to stay all day.
As well as all this, brilliant composer and musician, Alastair Gavin will be providing live music. Alastair was Assistant Musical Director at Mamma Mia! in the West End for many years, so we are in for a treat. There will be a couple of keyboards around the Fair, so Alastair can play in a variety of locations. Be prepared for him to take a tune and jazz it up.
The Ealing Animal Charities Fair takes place on Saturday, March 7 (10.30am to 4pm) at Hanwell Methodist Church, Church Road, W7 1DJ. Follow us on Twitter @EalngAnimalFair.