Column 2nd December 2019
With the death of Iman, the Sumatran rhinoceros who died at 5.35pm last Saturday, the Sumatran rhino has now become extinct in Malaysia. Having been hard hit by poaching and habitat loss, it is now believed there are less than 100 Sumatran rhinos in existence. Some estimates put the number as low as 30-80.
Last weekend, the rapid decline in insect populations was also in the news. Called by some an "insect apocalypse", recent research shows how the populations of insects around the world are rapidly declining with their absence having devastating consequences for life on the planet particularly in relation to pollination of plants that produce a considerable part of the world's food supply.
Although such decline is caused by aspects such as deforestation, climate change and the use of chemicals, it is compounded by an attitude among some people that not all lives of insects and animals matter. For example, the well-known wildlife expert, Chris Packham, highlights how, in their Bushtucker trials, the programme "I'm a Celebrity Get Me Out of Here", re-enforces stereotypes which portray some insects and animals as repulsive and not to be valued.
He points out that, since the programme started in 2002, attitudes have moved on. There is now an increasing need to recognise the vital importance of biodiversity and create a culture of respect for the life of all creatures.
It's great news that Chris Packham will be attending this year's Animal Aid Christmas Festival. If you haven't visited this amazing event before, you are missing a treat. Packed with 100 stands selling a huge range of cruelty-free items and delicious food, the Fair takes place on Sunday December 8 (10am-4.30pm) at Kensington Town Hall, Hornton Street. Admission is £3. Children under 11 are free. There are also children's workshops and a crѐche.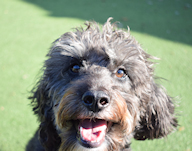 It's not surprising that written high-up in the policy of Battersea Dogs and Cats Home is that all animals and people will be treated with respect and dignity. Two year old, Marlow, is currently at Battersea waiting for a home. He came into their care as he was struggling with a busy home environment. He is an affectionate and sensitive dog who is uncomfortable with his back legs being touched. He needs new owners who, as Battersea say, are "respectful of Marlow and his handling discomfort". If you think this could be you, see details at battersea.org.uk or call 01784 494 443. He is in the care of Battersea's site at Old Windsor.
Column 9th December 2019
There's a herd of elephants gathering at Marble Arch. Each of them has a name and a unique story explaining how they come to be there. One of them, Sattao, was found on March 18, 2017 after the Kenya Wildlife Service (KWS) received reports of an orphaned baby elephant wandering alone in Tsavo East. After a search, the KWS and the Sheldrick Wildlife Trust (SWT) located the elephant and Sattao was flown to the elephant orphanage in Nairobi (in case you're wondering, it takes 11 people to lift a baby elephant into a plane). He was very thin and had predator bites on his back. There had been poaching in the area and it's thought that Sattao's mother was one of the victims. What happens in such situations is that the calf remains with the herd, but as it loses strength due to lack of milk, it can't keep up.
Created by artists Gillie and Marc, Sattao is part of a sculptural exhibit opened this week, at Marble Arch, called "The Orphans" featuring 21 life-size bronze elephants. Each orphan represents a real elephant currently in the care of SWT. This is the largest such sculpture of an elephant herd in the world and highlights the plight of the species - with current trends, wild African elephants won't exist by 2040. You can see more about the elephant orphanage including footage of Sattao's rescue at sheldrickwildlifetrust.org. The sculptures will be at Marble Arch for 1 year.
Sattao's Mum is not the only Mum who needed help in order to ensure that, in the face of adversity, their offspring is given the chance of a happy life.
Similar to Sattao, Kirrin was reported to an animal welfare charity as being in need of help. She was spotted in the street, heavily pregnant with nowhere to go. Hounslow Animal Welfare Society came to her aid and, shortly afterwards, Kirrin gave birth to 5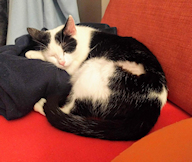 kittens at a vets.
After the kittens were weaned, Kirrin moved to her current foster home on October 9. At only I year old, she is scarcely more than a kitten herself. Kirrin was a good Mum. Even after her kittens had left her, when her foster carer watched a video of Kirrin with her kittens, at the sound of their crying, Kirrin came running into the room looking for them. Kirrin is friendly and loves playing. If you can offer this petite girl a loving home, see haws-animals.org.uk or call 020 8560 5443.